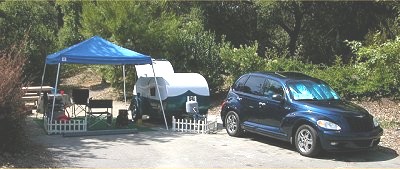 Gaujome Revisited - Summer Sizzle 2, June 25-26, 2004
Guajome County Park in Oceanside, CA
My first camping trip with the Ken-Skill was a lot of fun. First time camping at Guajome County Park. My friend Jim came down from Long Beach to join in the fun. There were almost 50 teardrop trailers there and lots of nice people. David and Deane Locke from Locke Nest Teardrops put a lot of work into this event. On Saturday they provided a great lunch for everyone. The campground is very nice with spaces tucked into the trees, lots of walking trails and good facilities. The weather was just about perfect. Julie also enjoyed meeting lots of people and sleeping in her new trailer.
The new trailer is set up a little different than the Benroy so it is taking a little getting used to how to pack it and where everything goes. The icebox is smaller and is hard to get standard blocks of ice into. Fortunately I have my stainless Coleman super cooler so that makes up the difference. The stove works great but takes up most of the counter space. Good thing I had my new folding camp table to help out. The trailer is certainly more comfortable for me. Not having the overhead cabinet in the front makes it great for sitting up to use my laptop.

Here I am almost all set up.


Click on images below for larger views.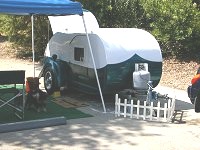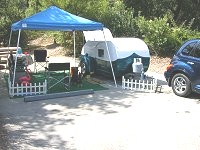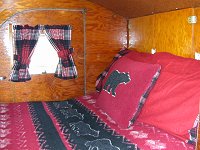 Here are some nighttime picture. My friend Jim from Long Beach came down and camped in a tent. He was supposed to be camping in my 1955 Benroy but I sold it before the meet.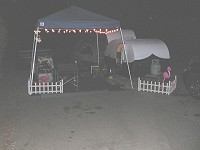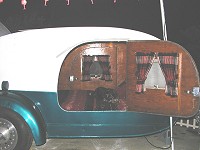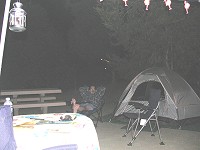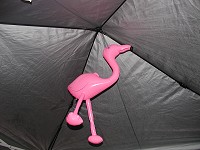 Click here for event pictures on Gage's site.