I bought this 1955 Benroy teardrop camping trailer at the end of August, 2001 to pull behind my 2002 Chrysler PT Cruiser. I was planning on building my own but I found this one and vintage is always better. The seller told me that he was only the second owner of the trailer and that it had always been in the Los Angeles area. He rewired it and added a small TV/VCR combo in the cabinet the holds the water tank. It still has the original ice box, stove, propane tank (now disconnected), sink, and interior lights. Most of the latches and hinges are original. There is some body damage in the front from people backing up too sharply and the first project I have done is some minor repairs and stabilization of the doors. The previous owner rebuilt the rear hatch already. The trailer is actually very solid overall.

I sold this trailer in June of 2004.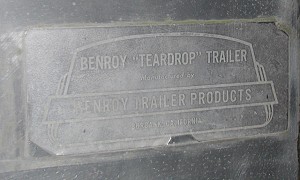 A Little Benroy History
Teardrop camping trailers were born out of a desire of people to have a simple and affordable means to explore the country without the "roughing it" aspect of tent camping.

The Benroy teardrop trailer was built by a Burbank California company founded by Bennet Petersen and Roy Greenwood in 1953 and continued until the end of 1955. They produced almost 500 trailers that sold for $420.00 retail. The trailers were mostly sold through dealers.

Click here for more Benroy history from Larry and Diane's Outback Teardrop Trailer page.