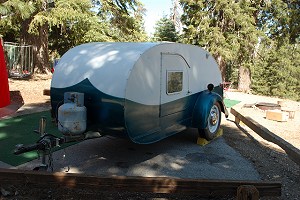 "Run to the Top" Vintage Campout at Table Mountain Campground
Wrightwood, California, June 20-22, 2008
Doug at Doug's Vintage Trailers put on this casual campout at Table Mountain Campground near Wrightwood, California. This time I took the PT Cruiser instead of the Dodge wagon. With gas at over $4.50 a gallon it was the obvious choice. Typically this event has been in the fall but this year it was moved to June. A much better choice since we had longer days and much nicer weather. Last year was so cold and we couldn't have campfires that it was kind of miserable at night. The teardrop is comfy but staying in it for a 12 hour stretch is not the greatest.
The weather this time was about 75 degrees during the day and high 50s to low 60s at night. Just about perfect. A lot of wildflowers were in bloom that we wouldn't see in the fall. There were a lot more participants this year even with the high gas prices. Bonnie and I were planning to get the same spots we had last year but when we got to the campground someone was already in one of them and the other one was reserved. We ended up in a spot with a nice view over the desert and good shade in the afternoon. We were able to put both trailers in one spot and park the cars in another one. The other spot was fully exposed and wouldn't have been good in the teardrop. The best thing about these trailers is you can push them around where you need them and they fit in small places.
On Saturday, my friends Jim and Alan came up for a day visit and we all ended up driving into Wrightwood to check out yard sales. I ended up buying a tile saw at one of them. Not what I expected to come home with but I needed one. Later that afternoon there was a big Mexican feast put on by a few of the campers. A good time was had by all.
Click here for more pictures on Doug's web site.

---
Click on images for larger views.