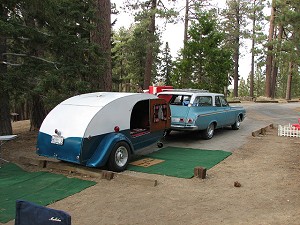 "Run to the Top" Vintage Campout at Table Mountain Campground
Wrightwood, California, September 29-October 1, 2006
Doug at Doug's Vintage Trailers put on this casual campout at Table Mountain Campground near Wrightwood, California. This was my first long trip with the wagon and trailer together. The car did pretty good climbing the mountain to 7100 feet. Julie and I caravanned up with my friend Bonnie Poppe and her pup Nacho. Bonnie has a PT Cruiser and Ken-Skill teardrop.
My friend Jim came up on Saturday to spend the day with us on the mountain. He didn't want to camp because there were no showers or even electricity at the campground. Of course I came prepared with battery powered tiki lights and my 12v electric blanket! We finally got to enjoy nice campfires since this is the first campout in a while that hasn't been in hot weather. There were bear lockers in each campsite but we never saw any.
Click on any of the photos for a larger view. Once the page opens, you can hit the next and previous buttons to view the others.
---
Click on images for larger views.