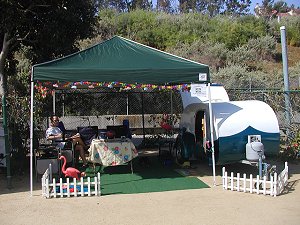 Vintage Trailer Camp meet in Newport Beach, California, May 13-15, 2005
This year, Craig Dorsey who normally puts on the Vintage Vacations meet in Newport Beach decided to take a break so another group took up the task and put it on. A lot of great trailers and cars as usual. The weather was great this weekend. Around 80 during the day and cooling off in the evenings. Just right for hanging out or checking out everyone's trailers. There were at least 10 teardrops at the meet which is a pretty good percentage. There seemed to be less cars this year but there was a woody show locally this weekend as well.
Click on any of the photos for a larger view. Once the page opens, you can hit the next and previous buttons to view the others.

---
Click on images for larger views.