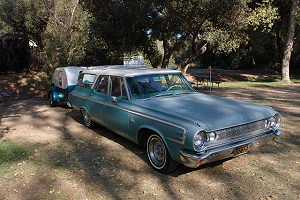 Spamboree 9 at Woods Valley Kampground
Valley Center, California, September 26-28, 2008
Once again a great time was had by all at the annual Spamboree Teardrop and Vintage Trailer campout. This year's event was held at a new larger location, Woods Valley Kampground, in Valley Center, California. This location, while more spread out than Guajome, allowed for more people to attend without the need to double up in every spot. The area we were camped in turned out to be very crowded as it seemed a lot of people wanted to be there. I had to move my trailer more than once as another trailer showed up that had to go somewhere. Unfortunately this was the only downside to the whole thing.
Of course I camped with my camping buddies Bonnie, Dave and Louise. Dave and Louise actually showed up on Thursday evening this time which I think they really liked. Normally due to work they would show up late on Friday. Their camping philosophy works well for them, they don't bring a lot of junk along and they have a rule that they should be able to stop anywhere and be able to get in their teardrop to sleep without unloading anything. Of course with all the junk I bring to these events, I would have a hard time with that. Maybe I'll be organized enough one day to get there.
One thing you might notice in the pictures below is that I have a different propane tank on my trailer now. I actually got very lucky and found an original tank from another Ken-Skill that someone in Oregon was remodeling. They weren't going to use the tank and I was able to purchase it, along with an original jack as well. Was a little tricky getting them to my house in San Diego as it's not that easy to ship a used propane tank. Fortunately the owner was going to the teardrop meet at Shasta in Northern California and I was able to find someone from So. Cal. who was going there who was able to get it to Long Beach, then I got a friend from Long Beach to pick it up there and bring it to San Diego. I've been looking for this tank ever since I got the Ken-Skill. I also got a new custom made retro-style cover for my ez-up. Everyone thought it was very nice.
The next Spamboree will be the 10th and last one, at least the last annual one. Damian and Sandra need a break from all the work to put on these events. I'm sure another event will take its place but it won't be the same. I'm sure Spamboree 10 will be even more over the top. My group is already planning what we're going to do for it.
---
Click on images for larger views.