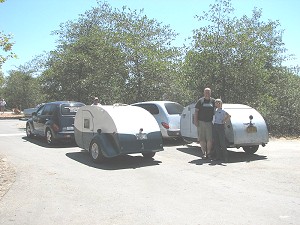 Spamboree 6, August 26-28, 2005
Guajome County Park in Oceanside, CA
Had a great time at Spamboree 6. Once again Jim came down and camped in a tent. Dave and Louise also shared our spot this year with their Jeep and off-road teardrop. Their friend Linda also camped in a tent. I got there around 12:30pm and a lot of the good spots were already taken. The one we had the previous year was already taken so we were down the hill a bit this time. It was a nice spot but a little toasty in the afternoon as it had a wide open southwestern exposure. This is when the ez-up is definitely a necessity.
It was very hot and muggy during the day. The mosquitos were biting like crazy which is unusual. I brought several tiki torches for the first time and they really helped keep down the mosquitos in the evening. Didn't have to worry about it getting too cold at night either, Louise's thermometer recorded a nighttime low of 58 degrees both nights.
The event was sold out this year as usual and there was a standby list of many people hoping for a cancellation. This event is very popular and for good reason. It is a great time. Damian and Sandra work like crazy to make it fun. Some spots even had three trailers in them this year instead of the normally required two. The size of the campground keeps the attendance down to a reasonable level. Have to be sure to register early.
The potluck luau was held at 4:00pm this time because the entertainment had to do another show somewhere else later that evening. I think it was kind of nice to have it earlier so we would have the evening free to hang out. Jim entered the SPAM contest again but alas wasn't one of the top 3 finishers.
I didn't take a lot of pictures this year as I was having too much fun just relaxing. I did get some interesting pictures of a dragonfly who posed for me for on my car antenna for several minutes.

Click on the photos for larger views.