Trailers at Simpson's Garden Town Nursery in Jamul, California.
I needed to go to the nursery to buy a tree so I decided to go to one of my favorites. Just happens that this nursery has a collection of old cars, truck and trailers as well as a lot of memorabilia. They recently opened a larger car barn to hold more vehicles. Unfortunately a couple of the trailers are now tucked in the back of the displays where you can't get close to them. I need to take my better camera next time to take pictures inside the barn. If you're in Southern California, it's a worthwhile trip to the country to check it out. If you're planning on buying plants be sure to bring cash or your local check as they don't take credit cards. One of their traditions is to give shoppers a nice cold apple to eat when you leave.

Click on images for larger views.
This is an early trailerboat. The camper is made out of masonite. The outboard motor is stored in the nose of the trailer behind the first door.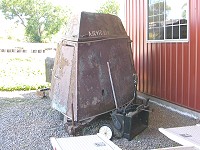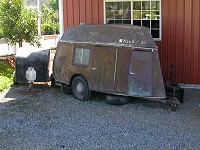 Cub or Modernistic Teardrop. In decent shape.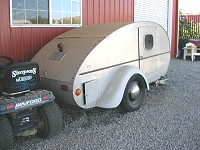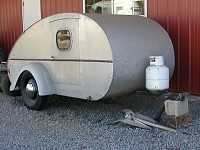 This is an early Kit teardrop with the flat fenders and rear bumper.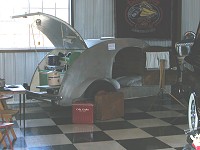 A 1960s trailerboat.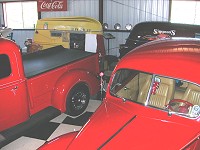 Line up of old travel trailers. The interiors are decorated in 1950s style.