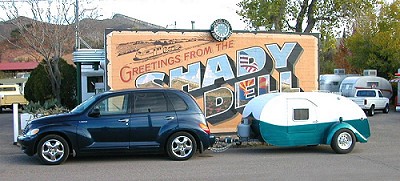 Thanksgiving at The Shady Dell, Bisbee, Arizona
November 24-28, 2004
A few friends and I braved the chilly nights in Bisbee, Arizona for the Thanksgiving holiday and camped at The Shady Dell RV Park. The Shady Dell features several restored vintage travel trailers, and even a vintage Chris Craft yacht and Flxible bus, that are rented out to visitors. Each unit is furnished with vintage fabrics and accessories. They also have RV spaces available where I camped with my Ken-Skill and Lewis brought his 24' 5th wheel trailer. Temperatures ranged from highs in the mid-60s to lows in the 30s. Definitely had a couple frosty mornings.
On Thursday we made a full Thanksgiving dinner including a wonderful barbecued turkey that Lewis made. We also had breakfast one day at Dot's Diner, which is a vintage 10-stool diner originally from Los Angeles.
We also did site seeing around the Bisbee and Tombstone areas. These towns are very historic and fun to just wander around and look at the buildings and shops. We also did the Queen Mine tour which was kind of boring (no pun intended). Overall the trip was a lot of fun and it was nice to spend quality time with friends and Julie. I would recommend The Shady Dell to anyone looking for a quirky travel experience.
Click here for the Bisbee, Arizona web site.
---