More camping information.
I'm using this blog style of page to provide quick information on my latest camping trips.
More information on some meets will also be posted on my main blog.
---
Buellton Vintage Trailer Bash - September 2012
This was my second year at this event and it was just as fun as last year. This was also the first trip with my new tow car, a 1995 Chrysler Town & Country. It worked out great and I'll be selling my PT Cruiser. Click here for more pictures.


---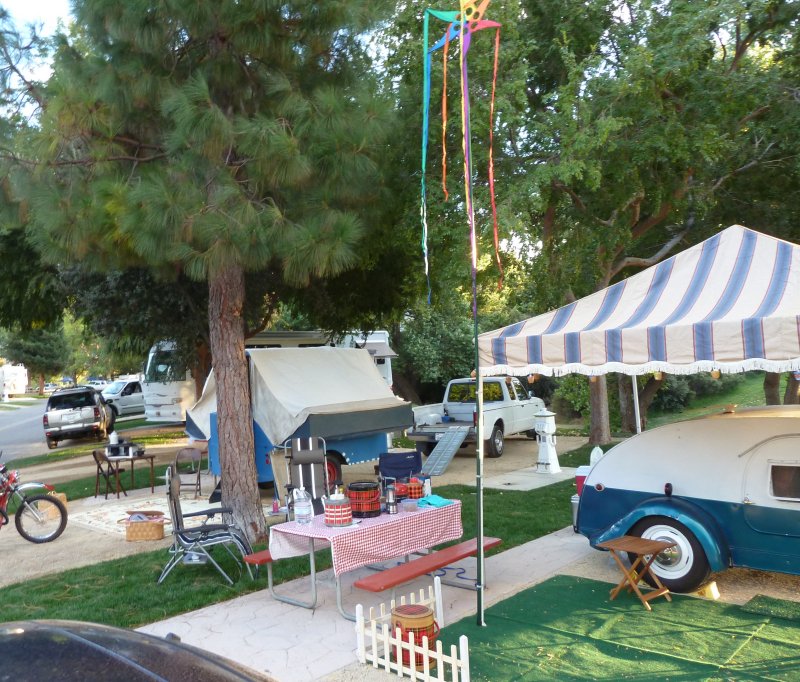 Buellton Vintage Trailer Bash - September 2011
This is a new event for me. Last year was the first one but it conflicted with the Spam Rehab so I didn't go. I signed up for this year while at the Pismo meet and arranged to have the Spam meet (meat?) the weekend before. This turned out to be a great meet at a very nice campground. Looking forward to next year.
Click here for more pictures and information.

---
Spam Rehab 2 - September 2011
This year at Woods Valley Kampground we had a small intimate group of campers for our sort-of-a-spam-meet. And oddly enough there was no spam served at the potluck. I did see a can floating around just for the effect. Other than Damian's towing adventure with his Hunter camper, things were pretty mellow. There was an odd situation with some people with a truckload of booze wanting to camp in the middle of our group (they didn't even have a tent) but the campground owner took care of it and there wasn't any trouble. There is talk about having a full on Spamboreeunion in 2012 but we'll have to wait and see.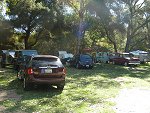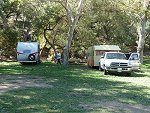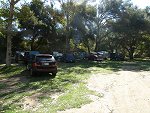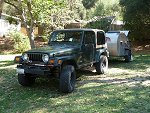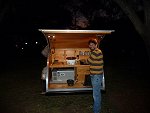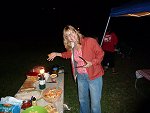 ---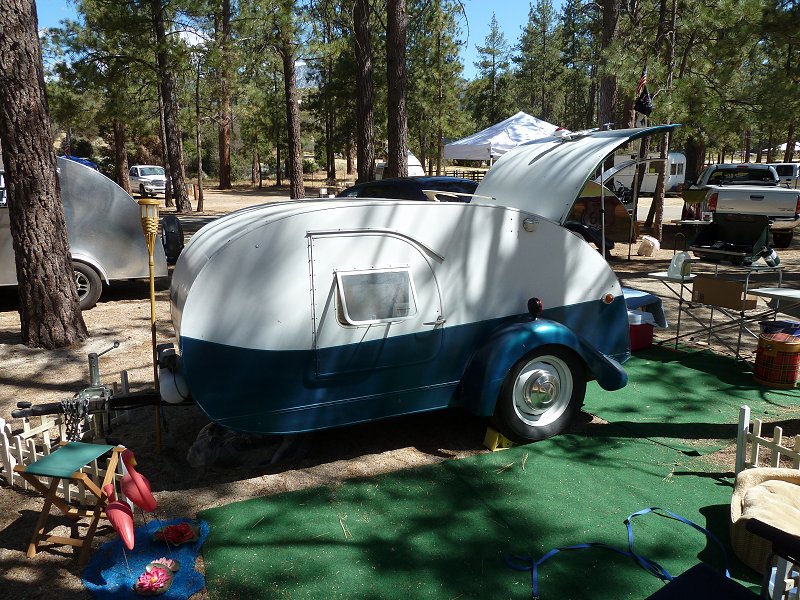 Hurkey Creek - August 2011
Attended the second annual teardrop and vintage trailer rally at Hurkey Creek Campground near Lake Hemet California. This year there were two group areas so more people could participate and we weren't so crammed together. The weather was just about perfect.
Click here for more pictures and information.

---
Wrightwood - June 2011
If it's June it must be time for Wrightwood. My annual trek to the mountains that separate the Los Angeles valley from the Mohave desert. Amazing how high the San Andreas Fault can push up a mountain.
Click here for more pictures and information.

---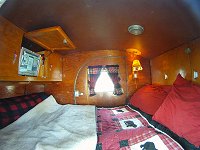 Pismo Beach - May 2011
Here we are once again at Pismo Beach for the big vintage trailer rally. The weather was great. A bit breezy at times and cold but dry and sunny. Breezy should be good since I was planning to fly kites a lot but there is a technical problem. The beach access from the RV park has been cut off my a slew that is normally quite small but now has cut a wide path right across the beach access. I didn't get to fly kites at all, mostly because I was just busy hanging out with camping friends and just enjoying a relaxing time. Julie did pretty well although her age is definitely affecting her. She can't walk very far or very fast so I ended up carrying her a lot. My friends Debra and John were there again with their 1957 VW Beetle and custom matching teardrop trailer. We spent a lot of time hanging out.
I did get to meet up with my new friend Matt Tritt who I've been talking to through e-mail since I got my Hall GTC motorhome. He has one as well. He came down to the RV park on Sunday to see what trailers remained. Later that day I drove to his house to check out his Hall GTC.
Click on the picture above for more pictures.

---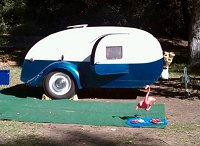 Spam Rehab - September 2010
Another camping trip, another adventure. Camping at Woods Valley Kampground in Valley Center this weekend. As casual vintage trailer meet that we're calling the Spam Rehab. Same weekend as the old annual Spamboree. A bunch of us just decided to show up again this year. Brought the old wagon and teardrop trailer. Pulled into the campground and the car died. No spark. Turns out the problem with the car turned out to be the electronic ignition conversion I had installed about 4 years ago. It failed so I changed it back to points and it's all better. The gathering turned out to be quite small as most people decided to go to the other event. Sad thing is that they didn't have the courtesy to call the campground and cancel, so our hosts took a very serious financial hit because they had saved the whole place for us based on verbal commitments. Even after all that, they were very gracious to us and invited us back next year.

---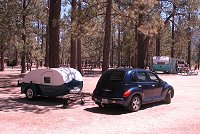 Hurkey Creek - August 2010
Here we are at Hurkey Creek campground near Lake Hemet, California. This is a vintage trailer rally, first time at this location. We were all in one big group site, about 40 trailers. Temperatures were hot but there was a nice breeze and the nights were nice and cool. Had a big potluck on Saturday. Good food and good friends is always a good thing. The picture here was when I first arrived and the only other camper there at the time was Cindy Ross. Thanks to Carousel and Ray Corliss for putting this together, will be back next year.

---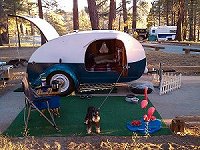 Wrightwood - June 2010
Once again had a great relaxing time at Wrightwood. The campground was full up this time since there was a large gathering of ham radio operators there. Some of the vintage campers had a hard time finding a good spot to park their trailers. The campground is very hilly and a lot of the spots aren't very big or level. The weather was great. In the mid seventies during the day and cool at night. There was a scare at the beginning of the trip as there was an arsonist running around Wrightwood starting fires. Hopefully they find whoever it is and gives them the punishment they deserve.

---
Pismo Beach - May 2010
This year at Pismo there were about 240 vintage trailers in attendance. The weather was cool and cloudy most of the time with not much wind at all. Didn't get to fly my kites that much. I drove the '64 Dodge wagon this year and it did great.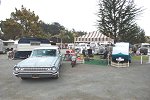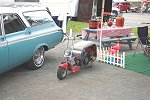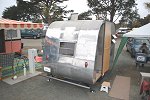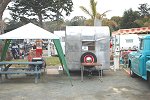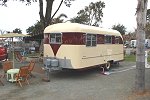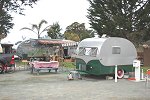 ---
Spamboree - September 2009
Well it had to happen, Spamboree X is the last official Spamboree. Sandra and Damian have been putting this on for 10 years and finally had to call it quits. They put so much work into the event each year that they really need a break. Of course the last one was the best one, lots of great people and trailers. Even a corny, but real, Spamboree wedding took place. I drove my motorhome this year towing the teardrop and had to endure some razzing from other campers. It's not like I slept in the motorhome and it's no bigger than some of the other tow vehicles people bring to events. Camped with Dave and Louise and Paul. Even though the Spamboree is officially over, a bunch of use are going to show up at Woods Valley in September 2010 for a "Spam Rehab" weekend. Should be a lot of fun.
Click here for pictures from the Spamboree.
---
Wrightwood June - 2009
Drove the 1964 Dodge to Wrightwood this year. My friends Jim and Alan came to visit for the day on Saturday and we went shopping at antique stores and yard sales. Julie isn't getting around too well these days so we camped at a lower campsite, that way if I had to carry her back it was at least down hill. Sorry no pictures this time.
---
Pismo Beach - May 2009
Had a great time at Pismo Beach this year. First time camping without Bonnie in a long time. Since she moved to France for a year she's missing out on great vintage camping events. Weather was great as usual and the amount of interesting trailers was outstanding. There seemed to be even more classic cars in attendance than ever which always adds to the enjoyment.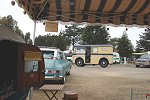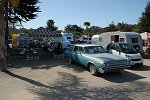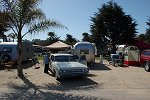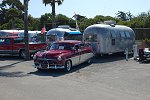 ---
More campouts...
---