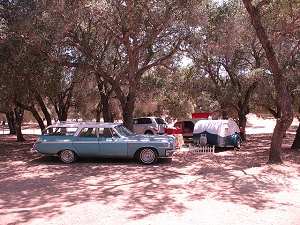 Vintage British Motorcycle Rally and Teardrop Campout
Lake Cachuma, California, May 25-28, 2007
Memorial Day weekend 2007, went to the 16th, and apparently last, vintage British motorcycle, side car and teardrop rally at Live Oak campground near Lake Cachuma, just 15 miles north of Santa Barbara, CA. Of course I went with my friend Bonnie but unfortunately no dogs were allowed so Julie and Bonnie's dogs had to stay home.
There was an official teardrop parking area but it was right in the middle of all the goings on and Bonnie had camped here before and knew of a great spot under some oak trees that had plenty of shade and even electricity. As you can see in the pictures, it was the perfect spot. Away from all the dust and noise of the motorcycle rally and dining pavilion.
We really didn't do much with the vintage motorcycle people at the event other than eat with them. Meals were included in the price of the event. We did venture into Solvang to visit a private motorcycle museum and we also checked out a few of the local antique stores. We also went to the Mission Santa InÚs in Santa Ynez. Another stop was at a private collection of signs, gas pumps, cars and anything else you'd see along side the road. Very eclectic collection.
Memorial Day weekend is also when Paso Robles has their big hot rod event. Paso Robles is about 80 miles north of Cachuma so we hopped in the wagon and hit the road. Had a great time there and saw many nice cars around the central park and driving around. We lucked out finding a great parking space close to everything. Overall a very nice relaxing time.

---
Click on images for larger views.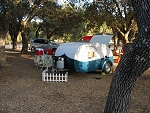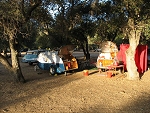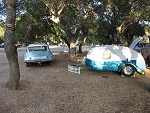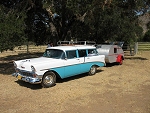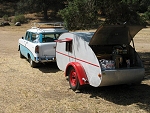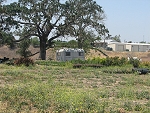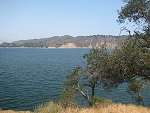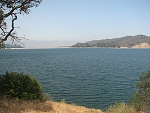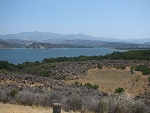 Click here for more pictures from the weekend.