1947 Cabin Car
The following information was provided by Art Rempel. His fully restored Cabin Car is pictured at right. He has since sold this trailer and it ended up in California. It appeared at the 2008 Trail Along To Pismo vintage RV rally. The trailer was sold again and now belongs to Hervé Houal of France.
Fleet Aircraft in Fort Erie, Ontario were looking for products to keep the factory busy after WWII and decided to try making the Cabin Car and uses some aircraft construction techniques, materials, hardware, etc. in the trailers. For some reason or other they didn't sell that well and they only made 1,500 of them in 1947 and then called it quits. The trailer is 12 feet long plus 3 feet for the tongue, 6 feet wide, 5 1/2 feet high from the ground and the cabin area itself is 4 feet high.
The back area was generally for storage, however, people often would put a propane stove back there. he has an old fashioned Coke cooler back there with the wooden water barrel and an extra factory option of a wood picnic table that fits on the bumper. His stove is not shown in the pictures, however it's a single burner old fashioned cast iron propane burner that sits on the counter. People generally did the cooking inside these as the table (counter) has a drop leaf on it along with 3 drawers to put utensils etc. in. Apparently they got complaints about this as it just got too hot inside so they came up with an additional roof vent and a screen door options (he has both). The interior counter also has a small sink in the corner (an option).
Art bought his trailer from a man who worked at Fleet Aircraft right out of high school when they just started building the Cabin Cars. There is at least one aluminum covered one but he has yet to see it in person. He was told when he got his that the factory did not produce any official aluminum trailers, however, there were rumors from time to time that one or two "creative" employees had possibly made one or two aluminum covered ones.
If you have a Cabin Car, or have materials not seen below, we'd like to hear from you.

Click on images for larger views.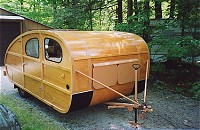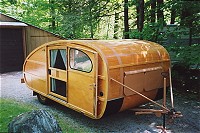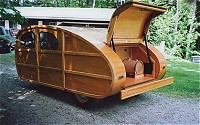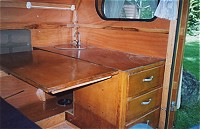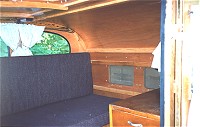 Here are photos of Art's Cabin Car before the extensive restoration he performed.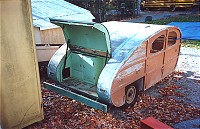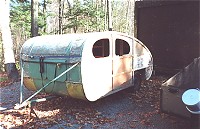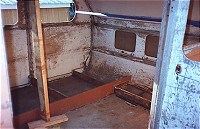 Click here for more Cabin Car photos.

More pictures on other sites: