Welcome to my page of information on teardrop camping trailers.
I have a 1947 Ken-Skill Kustom Kamper Model 10 teardrop trailer that I pull behind my 1964 Dodge 440 Wagon or my 1995 Chrysler Town & Country. I previously had a 1955 Benroy.
When you tell people you have a teardrop trailer, usually you get two reactions. Either they say "COOL!" or they say "What the heck is that!". Then when you show someone who is unfamiliar with teardrops what it actually is and how small it actually is, they are shocked. They're expecting some luxurious coach with all the modern amenities. Even though it's not a fully self-contained rig, it has all the necessities for comfortable camping. The sleeping quarters are cozy and warm and the kitchen out back is convenient and functional.
Ever since the first time I saw a teardrop trailer I wanted one. When I first saw the prototype for the PT Cruiser I wanted one of those too. I knew that the two would go together perfectly. I'm a die-hard Mopar fan and the PT Cruiser would be my first brand-new car. I finally got my 2002 PT Cruiser on July 31, 2001 after waiting only 36 days from when I ordered it.
For about a year before I got the car, I'd been thinking of building a teardrop trailer to go with it. My other cars are muscle cars and probably won't end up with trailer hitches on them. I was going to build a 4x8 version of the teardrop so that it would fit with the PT. While doing research on the Internet on teardrops, I ran across an ad for a vintage 1955 Benroy teardrop. This trailer was built in Burbank California and had resided in the Los Angeles area ever since. Only having two owners before me. I have since sold it to a family member of Bennett Petersen, the original builder.
The Benroy turned out to be just too small for me since I'm 6'5" tall. After my last camping trip in it I pretty much decided I either needed to build a longer trailer or find one already built. Out of the blue I got an e-mail from a couple in Northern California asking if I knew anyone who would be interested in buying their 1947 Ken-Skill teardrop trailer. Boy did I! You see, the Ken-Skill is unusual among vintage factory built teardrops in that it is longer than the standard 8 feet in length. This means more stretch out room on the inside. My first campout with the Ken-Skill was a great success. The extra space made a big difference and the rig was well received at the meet. Click here for details and pictures.
Site Updates:

A Little History
Teardrop camping trailers were born out of a desire of people to have a simple and affordable means to explore the country without the "roughing it" aspect of tent camping.

The teardrop is the perfect compromise between a tent and a full travel trailer. There is no question that the sleeping compartment is a cozy and dry place to be. The built-in kitchen out back, a trademark of the teardrop design, is very handy and complete.

There were many homebuilt and kit manufactured teardrop camping trailers made from the 1930s onward with the heyday coming in the late 1940s. Probably the most common size of teardrop is based on the standard size of plywood, 4x8. Since the teardrop was all about thrift, there was no reason to waste materials. This size gives enough room for a nice size bed and the necessary kitchen setup.

Click here for photos of different types of teardrops.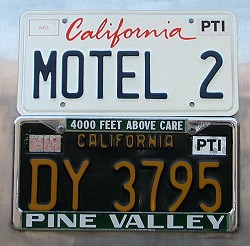 Click here to learn how to get PTI tags for your trailer in California.